Office Hours
Tuesday and Wednesday
9:00 a.m. to 1:00 p.m. (October through April)
Phone: 623-214-6006
Email: admin@ohoa-scw.org
Search our website:
---
The Organization of HOAs in Sun City West (OHOA) is an advisory organization that was formed in about April, 1978 and represents Home Owner Associations located in Sun City West. We are dedicated to encouraging association board members and unit residents to become knowledgeable community associations with responsible leadership. We do this by:

Holding educational seminars with professional speakers
OHOA conducts 7 educational seminars year from October through April.


Holding a Leadership Training Academy for new, current and potential HOA Board members



Publishing an informative newsletter
The INFORMER is published 7 times a year from October through April.


Updating membership with legislative news
OHOA offers a yearly update from a legal professional on new rules and regulations issued for condominiums and homeowner associations in Arizona and information on which ones are applicable to our communities.
The OHOA office is located in the PORA building near the Visitors Center and is open to all OHOA members in need of information about condo/HOA issues.
Should you have questions or concerns, please feel free to visit us at our office or call the number above or send us an e-mail to the address above. Walk-ins welcome.
If you are having difficulty solving issues in your HOA, call the OHOA office. Although we have no legal authority, the information we can provide can often help you solve your problem, and if not, we can direct you to the next appropriate level and help you gather your information, collect your facts and define your issues so that you can get resolution when you move to that level.
The OHOA office is closed May through September for summer recess. However, the answering machine is monitored by individual Board members through the recess. If a caller leaves his/her name, HOA name and a phone number, the phone call will be returned.
Please print and complete our 2017 survey and mail to our office.

Survey Results - (members only)
2017

---
OHOA Membership
Membership in OHOA is open to all homeowner associations in Sun City West. Dues are $3.50 per unit/homeowner per calendar year, with a maximum of $115.00 per association. For example, if your organization is small (for example, 10 units), your association dues would be $35.00 per year. If your association is larger (for example, 33 units OR MORE), your association dues would be $115.00. Dues are due in January and cover the entire year (although activities run from October through May) (currently there is no proration of dues).
---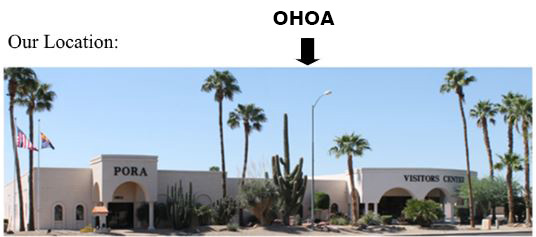 13815 W Camino Del Sol -Sun City West, AZ 85375



View Larger Map Disclaimers:


Our website is designed to provide individual owners and Boards of Management with information and examples of how to govern and manage their associations. It may not be feasible to apply all conclusions reached to every situation. Therefore, Sun City West boards and members must exercise managerial discretion when following the suggestions contained in our website.


Neither OHOA or its Directors shall have either liability or responsibility to any person, organization or entity with respect to any loss or damage caused or alleged to be caused, directly or indirectly, by any information provided.

OHOA does not give legal or tax advice, recommending law, or management firms. Boards of Management should consult with an attorney or CPA's on legal and tax issues.


17 Jan 2017